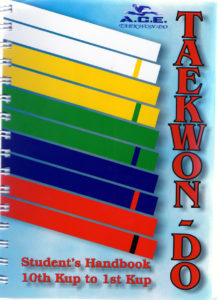 Student theory is an important part of training. A student must understand why techniques and movements are used and how to execute them properly. We term this as Purpose Of Movement (POM). Learning Korean terminology is also another important aspect of your training if you are to get the full benefit of all those many hours of training!. To help you in your study there is an official A.C.E. student handbook.
Please speak to your instructor of how you can purchase this excellent handbook.
You will also find the grading card useful and this can be found here:
Here is a handy Tul definition sheet why not print it off and cut it out to keep in wallet or purse.
pdf sheet