Spartan School Of Taekwon-Do
Spartan Taekwon-Do is an organisation that strives to uphold the integrity and goals of General Choi Hong Hi & Pioneer Rhee Ki Ha, First Grand Master, which includes following the guidelines and principles set forth in the Student Oath, the Tenets of Taekwon-Do, Moral Culture and Martial Art Ethics. We were established in 2008.
Our lessons are a combination of patterns, line work, breaking, sparring and self defence. Our classes get the student ready for gradings which are heard every 3/4 months. The grading are contacted but an international Instructor or a Grandmaster.
Spartan Taekwon-Do are proud to be a part of A.C.E. Taekwon-Do which a Society for Traditional and Authentic Taekwon-Do. The Society has been established by Grandmaster Paul Cutler, who studied directly under Pioneer Rhee Ki Ha, First Grand Master and General Choi Hong Hi, the founder of Taekwon-Do.
The head instructor of Spartan Taekwon-Do is Mr Steven Paris II Dan, who has been a part of the school since the start. He learns from Grandmaster, senior masters and masters of A.C.E Taekwon-Do. He has been promoted to II Dan by Grandmaster Paul Cutler and Grandmaster Raymond O'Neil. He has B Class Instructor certificate, First Aid, and holds a valid DBS.
Pictures below are of BlackBelt Grading In Dundee with
Pioneer Rhee Ki Ha
Grandmaster Paul Cutler and Grandmaster Raymond O'Neil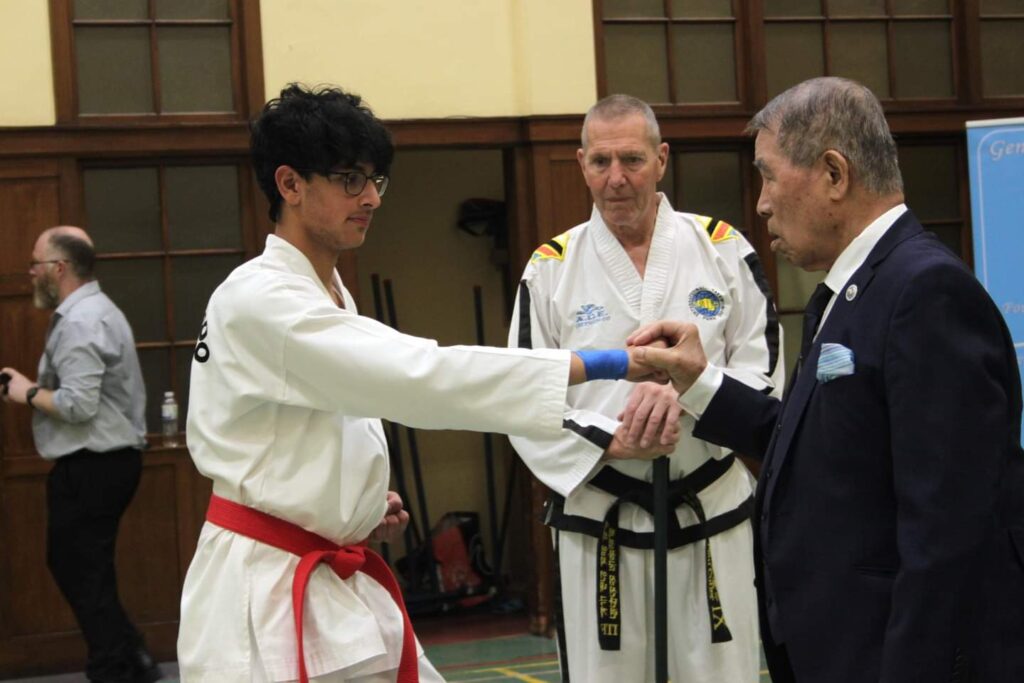 Congratulation to Mr Steve Moss and Mr Soumil Jain 1st Dan